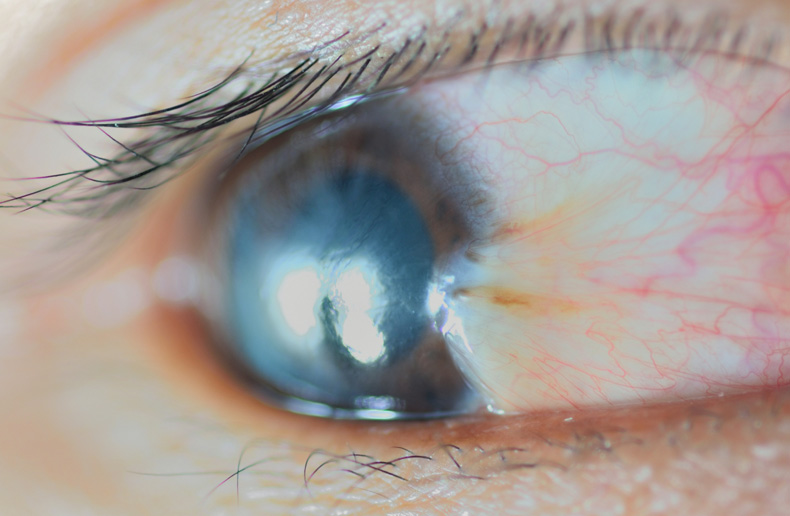 A pterygium is an elevated, reddish growth on the surface of the eye. A pterygium starts growing on the conjunctiva, which is a clear membrane that covers the white part (sclera) of the eye. If the growth is only over the sclera, it is considered a pinguecula. If the growth crosses onto the cornea – the clear structure in front of the colored part of the eye (iris), it is considered a pterygium. Pterygia most often grow on the eye's surface closer to the nose, though they will occasionally grow on the outer part, closer to the ear. The cause of pterygium growth is not completely understood but is known to be associated with sun exposure.
Besides being unsightly, a pterygium will often cause redness, irritation, dryness, tearing, fluctuating vision, or distortion of the vision. Growth on the cornea can even lead to vision loss which can worsen if the pterygium is left to grow. Surgery to remove your pterygium can be a great help in alleviating such symptoms.
To read in more detail about Pterygium Surgery, visit EyeWiki and Wikipedia. To read in more detail about Pingueculas, visit EyeWiki and Wikipedia.

CONVENIENTLY LOCATED IN THE NEW YORK/NEW JERSEY AREA
Medical Arts Building
230 W. Jersey Street, Suite 201,
Elizabeth, NJ 07202
Ph: (908) 289-1166
619 River Dr.
Elmwood Park, NJ 07407
Ph: (201) 703-2900